GreenPower Renewable Gas Certification Pilot
GreenPower's new certification pilot will help consumers directly support renewable gas projects.
The consultation period is now closed.
We are developing a new certification for renewable gas, starting with a two-year pilot.
Renewable gases such as biomethane and renewable hydrogen can help decarbonise sectors that are hard to transition to renewable electricity, such as heavy industry, chemicals and manufacturing.
The new certification will help customers directly support renewable gas projects in Australia. An online platform will be used to administer certificates, similar to the Clean Energy Regulator's registry for Large-scale Generation Certificates.
Jemena Gas Networks and Energy Networks Australia supported the design of the pilot, which will be delivered and operated by GreenPower. Jemena's biomethane project at the Sydney Water Malabar Waste Water Treatment Plant will be the first participant in the certification pilot.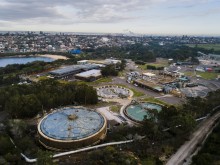 Image courtesy of Sydney Water
GreenPower will leverage its 25 years of experience in renewable electricity accreditation to ensure the pilot is independently audited and meets strict environmental criteria. This will give producers and customers confidence their voluntary action has a real impact in supporting renewable gas and reducing emissions.
The pilot is expected to start operating in mid-2022 and will run for approximately two years.
A consultation paper was released which sought feedback on the pilot's design. It discussed a range of topics including what gases can participate, project eligibility requirements, treatment of upstream emissions and interactions with other schemes.
Consultation is closed.
Renewable gas producers can express their interest in joining the pilot by contacting the GreenPower team on our Contact Us page.