Renewable Gas Certification Pilot
GreenPower's certification pilot will help establish a market for renewable gases.
The Pilot
To help establish a voluntary market for renewable gas, GreenPower is developing the Renewable Gas Certification Pilot. This pilot will initially focus on biogas, biomethane (upgraded biogas) and renewable hydrogen as these technologies are relatively mature.
The pilot will enable network-connected commercial and industrial gas customers to offset their gas use with Renewable Gas Guarantee of Origins (RGGOs).
We will ensure that each RGGO represents accredited renewable gas that displaces fossil fuel natural gas in Australia. This directly supports renewable gas projects and will allow customers to reduce their net emissions.
The pilot will work with projects around Australia. The first participating project is Jemena's Malabar Biomethane Injection Project which will trial injecting biomethane into the natural gas network in NSW. 
The Renewable Gas Certification Pilot is expected to start operating in the second quarter of 2023. For more information on the pilot, click here.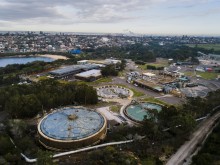 Photo courtesy Sydney Water
The role of renewable gas in decarbonisation
Natural gas is a large contributor to Australia's greenhouse gas emissions. Switching appliances from gas to renewable electricity is considered an efficient way to reduce emissions. However, electrification is not always available or possible, especially in industrial processes, such as steel making.
Renewable gases are made from renewable energy sources like agricultural waste, wastewater or renewable electricity and can have significantly lower emissions compared to fossil fuel natural gas. However, currently there is no mechanism for consumers to support renewable gas production. 
We see a role for renewable gas to be used in industrial processes and chemical feedstocks to replace fossil fuel natural gas. Renewable gas also allows existing large gas equipment to operate until its end of life, for example public swimming pool heaters that use gas. At the end of life, the equipment can then be replaced with an electric or other low-emissions alternative. 
We recommend that gas users look at all decarbonisation options before deciding to continue using gas, even if it is offset with renewable gas certificates.