GreenPower Program Review Consultation
The consultation period will be open from Monday 11 July 2022 to Monday 22 August 2022 (5pm AEST).
We want to hear your view on how GreenPower can support renewable energy going forward.
A review of the GreenPower program is underway to assess how the program is performing and how we can continue to deliver positive outcomes for consumers and the renewable energy industry.
GreenPower engaged consulting firm Common Capital to conduct the review and deliver a findings report with recommendations for how the program can improve. Common Capital found that there is a continued need for GreenPower to exist, but that the program needs to evolve due to significant market changes. The report is now available for download.
We developed a consultation paper to bring together the findings of the review and updates that were developed over the past two years.
The aim of this consultation is to get your input on short-term changes in 2023 and our vision for GreenPower in the medium term. It provides an opportunity for you to shape how GreenPower works and what it can do for you and energy consumers across Australia.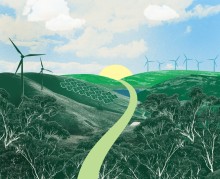 How to participate
To make a submission please read our consultation paper and provide your input at the online survey. Free form submissions and supporting documents can be uploaded at the end of the survey.
Submissions close 5pm on 22 August 2022.
Presentation slides from a Q&A webinar on 28 July 2022 are available for download. 
For any questions, please reach out through the Contact Us form.