Green Building Council's Green Building Day 2023
GreenPower is pleased to be partnering on Green Building Day 2023 to match the electricity used at these events with 100 percent renewable energy. 
Green Building Day offers the building industry the opportunity to learn from the most innovative case studies from around the country and get the latest updates in Green Star. The speakers include industry experts who will share their experiences and learnings on key sustainability challenges.
Green Building Day 2023 is held by the Green Building Council Australia across five capital cities in May and June. A virtual session is also available for anyone who can't make it in person.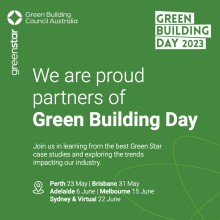 Details
Perth 23 May – More info here
Brisbane 31 May – More info here
Adelaide 6 June – More info here
Melbourne 15 June – More info here
Sydney 22 June – More info here
Virtual 22 June – More info here