GreenPower announces partnership to pilot renewable gas certification
GreenPower, Jemena and Energy Networks Australia (ENA) are announcing their partnership on the Renewable Gas Certification Pilot Project to test how voluntary schemes can enable gas network customers to buy renewable gas.
The pilot project is the first step in developing voluntary markets for renewable gas. The project will design, deliver and run a renewable gas certificate registry that will enable gas network customers to buy renewable gas.
The aim of the pilot is to support market-leading industry initiatives to deliver renewable gas projects, such as Jemena's biomethane injection project in Malabar, and inform the design of a potential future permanent renewable gas certification scheme.
Voluntary markets rely on trusted and transparent certification schemes to give customers confidence that their action has the intended effect and they receive value for money.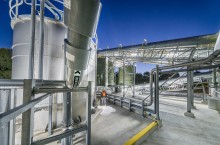 Renewable gases can enable the decarbonisation of hard to abate sectors, such as heavy industry and chemicals feedstock. Renewable gases can also supply clean, dispatchable power generation to support intermittent renewable technologies and help maximise the value and utilisation of waste to support the development of a circular economy.
The pilot is expected to start operating in early 2022 for approximately two years, helping inform future work to develop national certification standards.
GreenPower welcomes input regarding the design of the pilot and plans to release further details about the project in the second half of the year. If you would like to comment or find out more, please see our GreenPower Renewable Gas Certification Pilot page or complete the form on the Contact us page.