The Renewable Gas Certification Pilot will start operating in early 2023. We are now calling for renewable gas producers to express interest in joining, displacing fossil fuel natural gas with low-emissions renewable gas. 
When and how long will the pilot operate? 
The pilot is currently in late development stages and is expected to launch in early 2023.
We plan to operate the pilot until a suitable long-term scheme becomes available, and for a minimum of two years from the launch date. Projects can join the pilot throughout its implementation.
How to participate as a gas producer
Participation will be open to renewable gas projects across Australia including biomethane and green hydrogen projects injecting into a gas network, as well as behind the meter biogas projects that can demonstrate displacement of fossil fuel natural gas.
We are now calling for expressions of interest from renewable gas producers. You can express interest in joining the pilot by contacting us. 
How to buy renewable gas certificates
Businesses that want to offset their gas use with renewable gas certificates can directly contact gas producers to discuss purchasing certificates. We will publish a list of participating projects once the pilot is underway. 
The pilot will not include renewable gas for residential customers as we are primarily targeting sectors that are hard to electrify.
To receive updates about the pilot, please register for our newsletter here.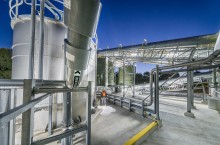 Development of the pilot
The pilot was initiated by GreenPower in collaboration with Jemena Gas Networks and Energy Networks Australia (ENA) in 2021 (media release). GreenPower is leading the delivery of the pilot.
GreenPower plans operate a registry to allow for the purchase, tracking and surrender of renewable gas certificates (RGCs). The pilot will operate nationally and is targeting participation by renewable gas producers in all Australian jurisdictions.
A public consultation in early 2022 sought feedback on the pilot's design. It discussed a range of topics including what gases can participate, project eligibility requirements, treatment of upstream emissions and interactions with other schemes. Read more about the consultation (link here).
Responses to the consultation are helping to inform the design of the pilot rules, which set out how the pilot operates, who can participate, and administrative arrangements such as fees and logo use. We expect to publish the pilot rules in late 2022, prior to starting operation in early 2023.